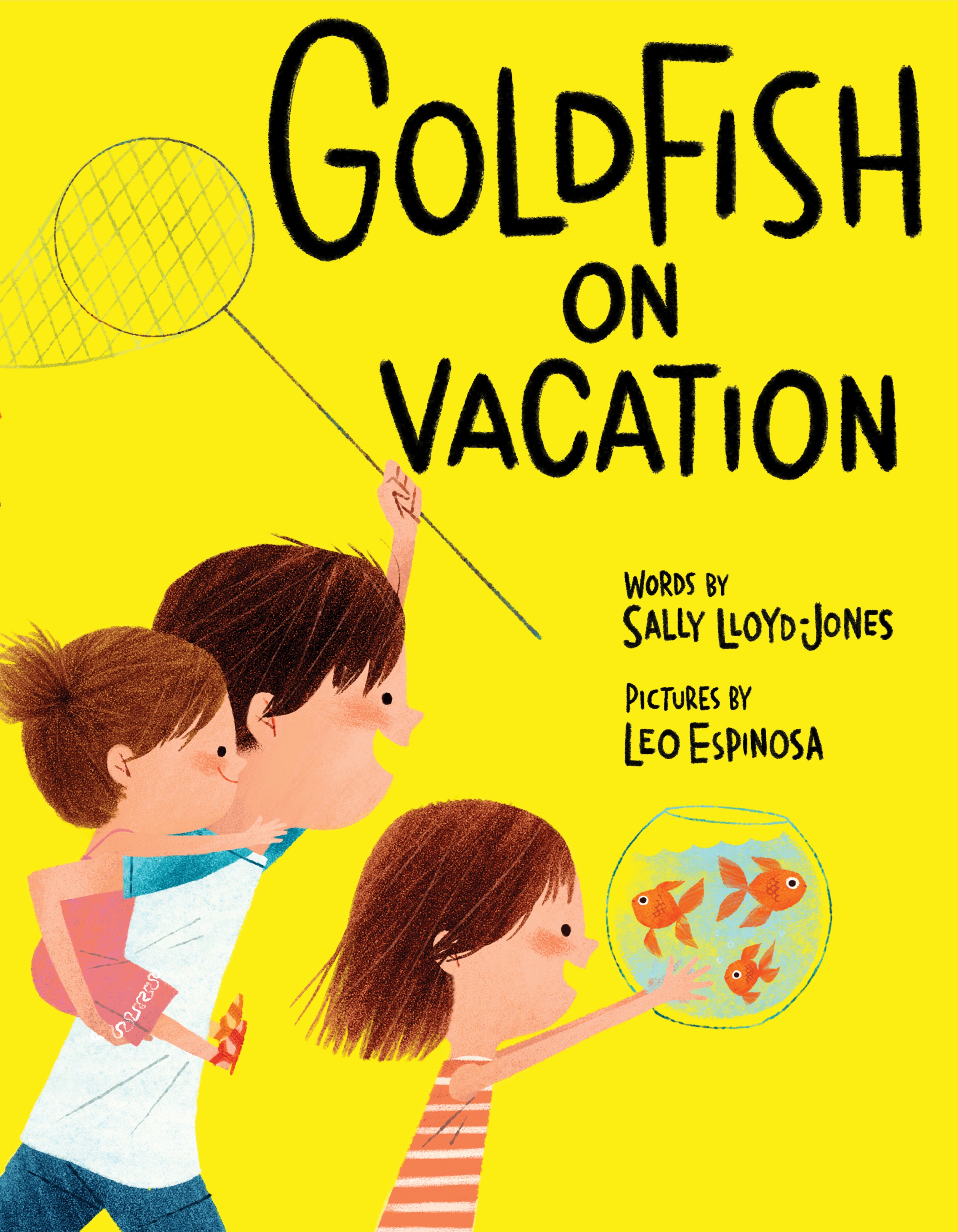 Looking for a fun story to get imaginations going?
From New York Times bestselling author Sally Lloyd-Jones and rising-star illustrator Leo Espinosa comes a humorous tale based on an amazing-but-true story about the summer a city fountain was used as a goldfish pond– GOLDFISH ON VACATION!
H, Little O, and Baby Em are stuck in the city for the summer with only their pet goldfish—Barracuda, Patch, and Fiss—for company. It's looking like it might be a pretty boring vacation, but one day, something exciting happens. Someone starts fixing up the old fountain down the street—the one Grandpa says horses used to drink from before everyone had cars—and a sign appears: "Calling All Goldfish Looking for a Summer Home." H, Little O, and Baby Em can't wait to send their goldfish on vacation, and the fish, well, they seem pretty excited too. Based on the true story of Hamilton Fountain in New York City, this charming tale of one special summer will delight readers young and old. Author's Note included.
Goldfish on Vacation by Sally Lloyd-Jones and Leo Espinosa
Free Book Guide!
Recognition
Reviews
A picture book that brims with color and gladness." –The Wall Street Journal
…sure to capture the imaginations of young readers and listeners alike." –Kirkus
Nostalgia infuses Lloyd-Jones's tale of childhood summer innocence and Espinosa's retro digital illustrations. His New York City, with its diverse community of residents set against a graphic cityscape, recalls the work of M. Sasek." –Publishers Weekly
…a really sweet story of community and connecting the past with the present… –ReadBrightly
read full reviews…
"Sally Lloyd-Jones tells the "completely true made-up story" of an ornate New York fountain that was turned for several summers into an enormous goldfish pond (completely true) in "Goldfish on Vacation" (Schwartz + Wade, 40 pages, $17.99), a picture book that brims with color and gladness. In Leo Espinosa's clean, retro-style pictures, we meet three children who live in a small Manhattan apartment near Riverside Park (that bit is made-up) with their grandfather and three goldfish, Barracuda, Patch and Fiss. Out their window the children can see a stone eagle atop the once-grand Hamilton Fountain, now derelict and filled with garbage. "In the Olden Days Before Cars, horses drank from it," we read. "But when people got cars, they didn't need horses—or the fountain. And they stopped taking care of it." So the three children are thrilled when a sign goes up inviting "all goldfish looking for a summer home" and a man comes to tidy the fountain and fill it with water and lily pads. On the appointed day, the three apartment dwellers join mobs of other fishbowl-toting children at the fountain. Telling their pets "goodbye and see you soon and don't be homesick," they pop the goldfish into the shining water. At summer's end, all the "goldfish parents" get to splash in the fountain while retrieving their pets, which, in the case of the three children, "may have been Barracuda and Patch and Fiss, or some other goldfish altogether" in this happy tale for 4- to 8-year-olds."–The Wall Street Journal
"Where do fish go during vacations? It seems as though it's going to be an ordinary summer for three white children (named H, Little O, and Baby Em), their grandfather, and their goldfish (named Barracuda, Patch, and Fiss)—until a sign appears outside an abandoned nearby fountain that changes everything. "COMING IN TWO WEEKS! CALLING ALL GOLDFISH LOOKING FOR A SUMMER HOME," it says. Soon a man comes to clean and landscape the fountain, and not long after that, it's time for the neighborhood children to drop off their fishy charges! Clear, jovial text and appealing, retro-styled illustrations rendered in pencil and Photoshop portray a diverse New York neighborhood full of youngsters, many of whom spend a summer eagerly visiting their pets and listening to Grandpa's stories of summers past. Before the kids know, it, summer has ended, and it's time to find their fish (Are they sure they have the right ones? Grandpa seems to know…), and the adventure is over until next year. "Anyway, who says you have to leave the city to have a vacation?" asks Grandpa. An author's note reveals that for 13 years many of New York City's goldfish actually went on vacation in Hamilton Fountain before its 2009 restoration. A charming, gently humorous, accessible story based on a real-life occurrence that's sure to capture the imaginations of young readers and listeners alike. (Picture book. 3-6)"–Kirkus
"Lloyd-Jones (His Royal Highness, King Baby) takes inspiration from the charming true story of a New York City fountain that became a summer "retreat" for goldfish for more than a decade. After three children find a sign on a derelict fountain—"Coming in Two Weeks! Calling All Goldfish Looking for a Summer Home"—they run home to share the news with their grandfather and three fish. When the day finally arrives, the once-forlorn fountain has been transformed into a locus for neighborhood children who while away the summer playing and listening to Grandpa's yarns of times past. Anxious readers may wonder how the kids will reclaim their own fish, and at summer's end the children remark how different their pets look. "Of course!" says Grandpa. "That's what a vacation will do for you!" Nostalgia infuses Lloyd-Jones's tale of childhood summer innocence and Espinosa's retro digital illustrations. His New York City, with its diverse community of residents set against a graphic cityscape, recalls the work of M. Sasek. A closing note details the fountain's real-life history. Ages 4–8. Author's agent: Elizabeth Harding, Curtis Brown. (Apr.)"–Publishers Weekly
"Some books are the type that you read, put down, and forget all about. Other books have characters who stick with you long after you turn the last page. And some books make you curious and lead you down a rabbit hole of learning and research — as was most definitely the case when my 7-year-old daughter and I read Goldfish on Vacation, a picture book written by Sally Lloyd-Jones and illustrated by Leo Espinosa. The story is about three siblings, their three goldfish, and their grandpa who are stuck in New York City all summer. It looks like life is going to be incredibly boring — until something kind of magical happens. Down the street from their apartment, there is an old fountain that's covered in garbage and ivy. Grandpa tells the kids all about how horses used to drink from it in the old days. Now people have no use for it and have stopped taking care of it entirely. But one day, the children notice a sign in the fountain that says, "Coming in two weeks! Calling all goldfish looking for a summer home." The children (and grandpa) are ecstatic. They watch each day as a man comes and cleans out the fountain, adding lily pads and reeds. It turns out they're not the only ones who are excited. On the big day, lots and lots of children are lined up to drop their goldfish off on vacation. The fountain becomes a meeting ground. Children come to check on their fish and end up talking and playing together day after day. Grandpa even pulls up a chair and tells them stories about the fountain when he was a boy. The book is a really sweet story of community and connecting the past with the present — a theme that is helped along by beautiful retro-style illustrations. My daughter liked it enough on its own, but when we reached the author's note in the back, her little mouth dropped open. The book is based on actual events. Between 1992 and 2005, the fountain was filled with goldfish during the summer months. After taking a second to digest that information, the questions started. Is the fountain still there? Where is it? Does it really look like that? A sucker for encouraging curiosity whether it's bedtime or not, I turned to Google to help answer some of her questions. We saw photos of what the fountain looks like today and could locate it on a map and talk about it in relation to places we've been, like the American Museum of Natural History. My daughter also wanted to see photos of it in the past, which lead us to look for photos of goldfish in the fountain and horses drinking from it. And, of course, questions tend to lead to more questions. We talked about how, before cars, people used to get around with horses and a lot of the fountains in New York were created for the horses to drink from. She wanted to know how the horses ate and who took care of them and, of course, what happened to all that horse poop. I took that last question as a cue to wrap things up for the night. (I mean, how did we get from a picture book about goldfish to horse poop in historical New York City?) Still, I was impressed that a book which sweetly connected the generations (grandpa and his grandkids, the olden days and the present day) also inspired us to go on a fact-finding mission that more or less did the same. I never expected a bedtime story to take us on this kind of journey. I can't help but wonder where this book will take your young reader."–ReadBrightly
More Books You Will Love