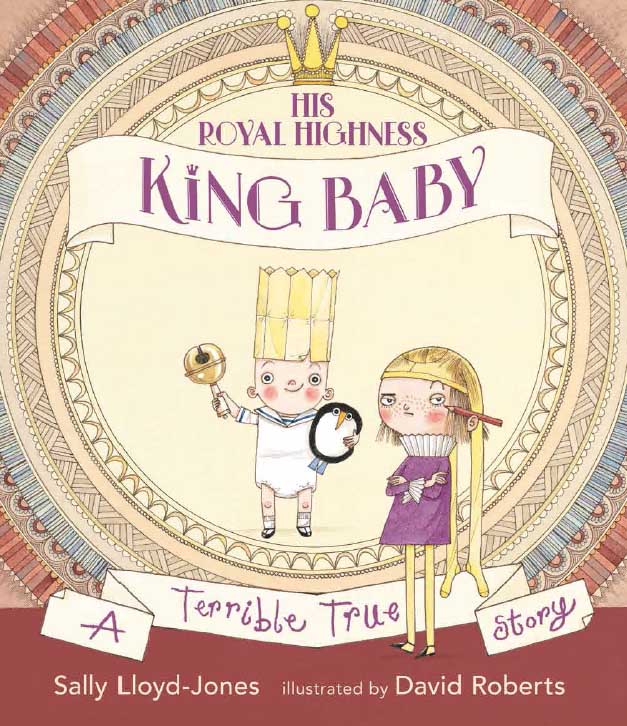 When an older sibling with a flair for the dramatic shares her kingdom with a baby tyrant, can there be a happily ever after?
Once upon a time, there was a Happy Family: a mommy, a daddy, and the most beautiful, wonderful, kind, and gentle princess of a daughter.
But then one horrible day, a brand-new ruler is born. BEHOLD: His Terrible, Tiny Royal Highness King Baby!
He is SO smelly. He's SO noisy. And ALL the talk in the Land is about him — NONSTOP, ALL THE TIME!
Has there ever been such a time of Wicked Rule? Will the princess live happily ever after?
Find out if this story, hilariously told from a big sister's perspective, has a happy ending.
Sally Lloyd-Jones is the author of many children's books, including Skip to the Loo, My Darling! illustrated by Anita Jeram; How to Be a Baby, by Me, the Big Sister, which was a New York Times bestseller; and its sequel, How to Get Married, by Me, the Bride. She lives in New York City.
David Roberts is the illustrator of The Dunderheads by Paul Fleischman, which won several awards and was short-listed for the Kate Greenaway Medal, and its sequel, The Dunderheads Behind Bars, as well as the New York Times bestsellers Rosie Revere, Engineer and Iggy Peck, Architect by Andrea Beaty. He lives in London.
Reviews of His Royal Highness, King Baby
exhilarating" & "delightful" –The New York Times
…funny from the very first page…" –Publishers Weekly starred review
A royal serving of fun for the new-baby shelf." –Kirkus
Brilliantly observed and oozing style, a wonderfully funny take on sibling rivalry and the "wicked rule" of a new baby." –The Bookseller
read more…
"This displacement-themed fairy tale spoof is funny from the very first page, when Lloyd-Jones (Baby Wren and the Great Gift) introduces her fantasizing heroine as "the most beautifulest, cleverest, ever-so-kindest Princess with long, flowing wondrous hair," and Roberts (Ada Twist, Scientist) shows her wearing yellow tights on her head in an approximation of golden tresses. But happily-ever-after goes out the window with the arrival of a smelly, attention-grabbing baby brother, aka King Baby. As the girl bemoans her fate in storybook-style narration, the sly pen-and-watercolor pictures provide delicious comic counterpoint, from the 1970s-retro detailing (a wicker peacock chair stands in as throne) to panel sequences that mirror Roberts's crisp images with crayon-scrawled ones that reflect the girl's version of events. It takes the meltdown of King Baby at his first birthday party to trigger two epiphanies: she has magical powers to soothe him, and l'état, c'est moi can be true of brother-sister rulers. Comparisons to Kate Beaton's King Baby and Marla Frazee's The Boss Baby are natural, but Lloyd-Jones and Roberts's satire stands on its own." Publishers Weekly
"Has there ever been a baby as wicked as this one? Lloyd-Jones ("How to Be a Baby … by Me, the Big Sister") and Roberts ("Rosie Revere, Engineer") take the baby-as-royal-tyrant trope out for an exhilarating spin. A new big sister — a "cruelly mistreated Princess" with "long, flowing wondrous hair" that looks a lot like yellow tights — refuses to roll over when her new sibling sucks up all the attention. The Princess's histrionic crayon drawings of the goings-on accompany delightfully detailed tableaus of life in a baby-mad family." New York Times Book Review
"Roberts' lively mixed-media illustrations humorously play out the sister's exaggerated version of the events, from the deeply expressive faces to the dense compositions packed with comical details…Many older siblings will relate to this uproarious tale of new-baby mayhem." Booklist Online
"I think I've just found my favourite ever picture book take on a new sibling. […]David Roberts must surely be king when it comes to pen and watercolour illustrations. Herein his distinctive illustrative style is retro 1970s (mum with frizzy permed hair and dad wearing bell-bottoms) ; but running in tandem with that are crayoned images showing the Princess's version of events taken from Princess Marigold's Drawing Book– a brilliant comic counterpoint if ever there was one. All this, alongside Sally Lloyd-Jones' terrific fairytale pastiche and the result? A new dream team is launched." Red Reading Hub
More Books You Will Love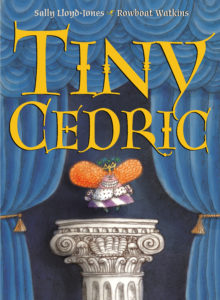 Tiny Cedric
The transforming power of love to tear down the walls between us
View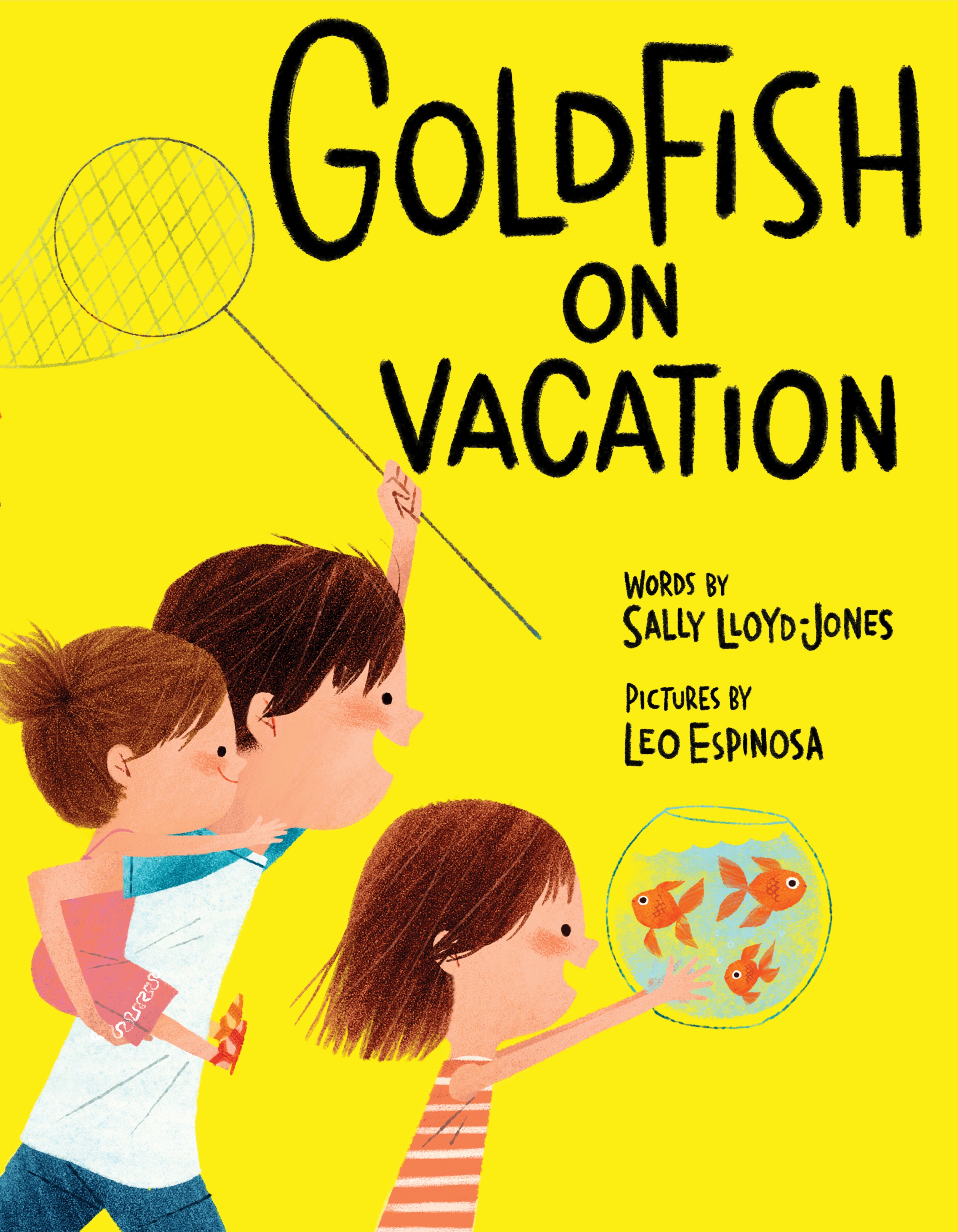 Goldfish on Vacation
Looking for a fun story to spark the imagination? Watch a dreary summer in the city turn into the best summer ever!
View
How to Be a Baby, By Me, The Big Sister
Hilarious "guide" to the behavior of babies by an older sibling (aka the 6 year-old baby expert).
View
The Ultimate Guide to Grandmas and Grandpas!
A very funny "instruction manual" for children on the care of grandparents
View
Poor Doreen: A Fishy Tale
The story of a traveling fish and her unlikely and hilarious journey upstream.
View
Just Because You're Mine
A celebration of a parent's unconditional love for a child.
View