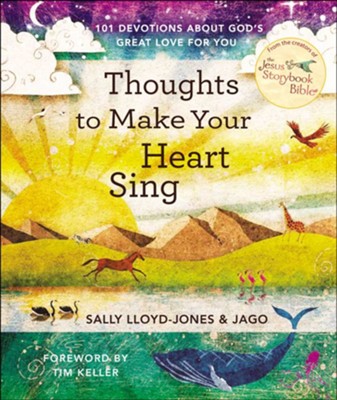 Drawing insights from creation, history, science, the writings of great thinkers, writers, preachers and more–Thoughts To Make Your Heart Sing turns the reader's eyes toward the one who loves them with a Never Stopping, Never Giving Up, Unbreaking, Always and Forever Love. And is designed to do one thing: make the reader's heart sing.
This innovational devotional was Christian Book of the Year 2012–in the adult inspirational category. Read by not only children–but teens, adults and the old, Thoughts To Make Your Heart Sing will create a deeper understanding of faith and build hope and joy in the heart of the reader–young or old.
Beautifully produced and designed to invite the reader linger on the page and illustrated by Jago, here's a stunning follow up from the team who brought you the award-winning and best selling The Jesus Storybook Bible.
A book of hope, comfort and inspiration for a child's heart – big or small.


Awards for Thoughts to make your heart sing


Performed by Emmy Award-Winning Actor
David Suchet, OBE
'Thoughts To Make Your Heart Sing' may be the best, first introduction for children to have their own time with God." – Dr Timothy Keller
PRAISE FOR 'THE JESUS STORYBOOK BIBLE' – "…as theological as it is charming." – Christianity Today
see more reviews
"Thoughts to Make Your Heart Sing is a satisfying follow-up to The Jesus Storybook Bible, filled with a surprising amount of deep theology and dynamic visuals that will propel family discussions… compelling in its poignant simplicity."The Gospel Coalition
Related Books