In honour of King Charles' upcoming coronation, here are my book picks fit for royalty. Why not read them at your own coronation party? (Free Coronation Party Pack here!)
I have to start with a book honouring our beloved Queen. When the wind went swish, it took the Queen's favourite hat right off her head. Follow the hat as it flies all around London, and make sure to find the adorable Corgi on each page. When you watch the coronation, see how many uniforms, landmarks, and characters you can find from the book.

---
Magical realms, epic battles between good and evil, and the unforgettable creatures of Narnia – including Aslan, the King – will make these lifelong favourites.

---
Eight-year-old princess Irene has been sent away from home to live in a large, remote house in the country. There, at the top of the house, she opens a door and enters a world of mystery. An all time fairy-tale classic that influenced both Narnia and The Hobbit.

---
A classic story beloved by millions, this edition contains illustrations restored to match the detail and colour of Saint-Exupery's original artwork.

---
The Paper Bag Princess by Robert Munsch, illustrated by Michael Martchenko
When the fiercest dragon in the whole world smashes Princess Elizabeth's castle and burns all her clothes, she takes matters into her own hands. The ultimate girl power story.

---
Princess Potty by Samantha Berger, illustrated by Amy Cartwright
Because every princess needs her throne…. (Also check out my potty book, Skip to the Loo. Can you find the animal wearing a crown?)

---
The Tale of Despereaux by Kate DiCamillo, illustrated by Timothy Basil Ering
A brave mouse, a covetous rat, a wishful serving girl, and a princess named Pea come together in this story packed with adventure.

---
I'm a huge Ian Falconer fan and was saddened to hear of his recent passing. So we'll honour his legacy by reading his book. In this Olivia story, she embarks upon a quest for identity with very lofty goals—and being a princess is NOT one of them.

---
An enchanting tale about a clever, problem-solving princess with magical curly hair. Can you figure out how to solve the hungry bunny problem?

---
A gorgeously illustrated tale from the award-winning John Burningham. Follow along on this exciting night's journey to find what a cat does at night — and meet a Queen along the way.

---
This third title about Babar the King follows the elephants as they build a magnificent city: Celesteville. Life is peaceful and contented and celebrations are frequent. But one fateful day a snake bites the Old Lady and Babar fears that he may lose his oldest friend.

---
Angelina hopes to dance the starring role in an upcoming performance for the Royal Ballet, but instead she gets a tiny part. How will she respond to the disappointing news?

---
The King and the Sea by Heinz Janisch, illustrated by Wolf Erlbruch
Like any good children's book, this is seemingly simple but ultimately profound. A beautiful collection of short stories about a king who tries to rule over everything.

---
A sparkly board book with a feisty protagonist who makes it abundantly clear who she is — and who she is not.

---
A beautifully illustrated book that explores the incredible life and legacy of Queen Elizabeth and how her historic reign helped shape the world.

---
And if I may, here are two of my books that celebrate royalty:
When an older sibling with a flair for the dramatic shares her kingdom with a baby tyrant, can there be a happily ever after?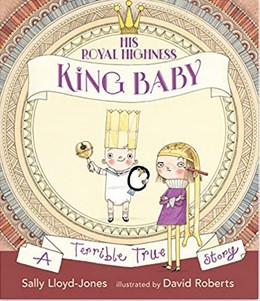 ---
Tiny Cedric by Sally Lloyd-Jones, illustrated by Rowboat Watkins
A very silly story about a tiny king who grows into a big-hearted monarch after he banishes almost his entire court from the palace.

---
Do you have any favourites to share? Feel free to drop suggestions in the comments.